This time a review of a picture book. A great edition it is as well and from photographer James Geer, who is great fan of the F-14 Tomcat! Who actually was not crazy about that plane? I remember very well that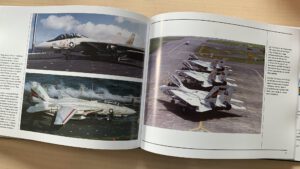 when I was 15, I sat, full of adrenaline, in the cinema to watch Top Gun. I did plane spotting in that time and of course would be an F-16 pilot once I was 18 and thus the movie (and the Tomcat) fitted in the approach to my piloting career! (by the way, it turned out a bit differently. I flew out of the selection process at the end of day 1, and would still become a pilot, but then on kind of slower planes.. Also great!)
In 12 chapters the book lists all squadrons in which the Tomcat flew. From VF-1 till VF-302! Each chapter contains about 6 till 20 pages and has Air to Air photos in combination with photos that were taken by the author and other photographers. Most of them are daylight photos.
The chapters have a similar build up; a short description of the history of the relating squadrons, the corresponding badges and a short overview of the most important events, like participation in big drills, special interceptions of for example, East block planes, but also contributions to missions above the Middle East. The focus is on the squadrons that were part of the 'Pacific Fleet'. The 'Atlantic Fleet' is not mentioned. It is understood that the longer a squadron exist, the longer the list with extraordinary facts is, but usually they are not longer than 1 page. After that pictures follow from the Tomcat on the ground and flying, combined with a short description of the background of the picture.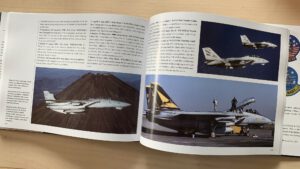 More than 550 Tomcats have been built from 1970 till the '90ies and due to his famous reputation in the world stage, pretty design and 'erotic' function… of this iconic plane on plane lovers, it is really nice that a book about this plane appears again. I think that this book is mainly interesting for F-14 fans and also for fans of model-building.
The quality of the pictures is very good, though which all the colour schemes and details of the planes are clearly visible. Thus, perfect to paint on models or whatever. A total of 144 pages of air-power from the 'cold war time'! For the fans of this book, all-in all a great book for on your bookshelf. Thanks James! What will you next book tell? The Atlantic Fleet? The 80 Tomcats delivered to Iran?