When you are talking about the best series of aviation books, then this one is absolutely in my top 3! Why? Just because I can..and must be! This book is 472 pages and contains, just as the other 3 books that were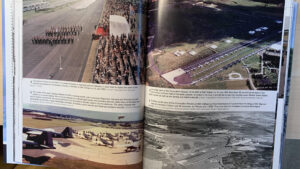 published in the past years in this series, really beautiful pictures. Where the previous 3 books talked about the RAF in the years 50, 60 and 70ies, this book talks about the past 100 years of the RAF were 'on display' at aviation shows and specifically the recent festivities with respect to 100-year Royal Air Force on the 10th of July 2018. There was a great fly past across London and Buckingham palace, 103 planes participated in this.
The complete book breathes processions, parades and displays on the ground and in the air in various ways. In that respect, this book is already unique. I do not know any book that specifically describes about the history of displays. The book starts with a short explanation of the first international aviation show in France, at Reims. About 250.000 people were present then. After that a step is made to the aviation in the UK in 1910, when attempts were made to fulfill a challenge out 1906 of the Daily Mail newspaper. The challenge was to fly from London to Manchester or vice versa with a maximum of 2 landings… Hendon was chosen as starting place. The French men Paulhan managed to win the challenge on April 27th 1910. From that year onwards, yearly displays were hosted at airport Hendon. It must have been interesting times. Ten thousand of visitors attended at Hendon and even a few flight schools started. In 1919 the first important parade was there, in the context of the victory of the 1st World war. A lot of biplanes flew those years. Those were, construction wise, more solid and reliable.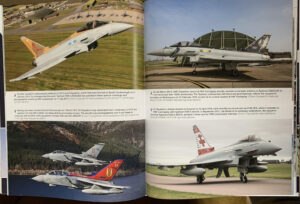 The book follows with chapters in which attention is given -as so to say- to later in that time and faster and different planes; monoplanes, fighter jets, helicopters, large planes, but also all kinds of record attempts and shows. The author shows various beautiful and interesting moments, like a race from the top of the tower of the post office in London to the top of the Empire State Building in New York…that was done with Harriers accompanied by VC-10 tankers. But also, all kinds of extra ordinary formations and foreign visitors come past, obviously shown in great pictures take from the ground and in the air.
I myself, am pretty charmed by the numerous photos of the formations of the Cold war jets in colour and black and white from Venoms, Gloster Meteors, Canberra's, Lightnings, Starfighters, Phantoms, Vulcans, etc, etc, etc and that in combination with each other or in the form of different numbers or other forms. The book leads to a chapter about the Fly past and festivities around the 100iest birthday of the RAF in 2018. Stunning photos!
Keith Wilson is just a very lucky man with his career as aviation photographer, which he keeps up for 35 years. It will have been hard every now and then! 😉 He photographed more than 2.000 different planes in all possible variations. Next to that, Wilson succeeded to accompany those pictures of good readable information. Not too much detail, not too general, but just right for the normal man that is primarily visually orientated… and of course, not to forget, the few women that want to flick through this book. Wilson has not taken all the photos himself, but he has -also in this book- made a good combination of the past and past. Praise to him!
This book, but especially also the whole series is a must-have for each fan of the RAF and British aviation…like me. I am curious to see if there will be a follow up. We'll see!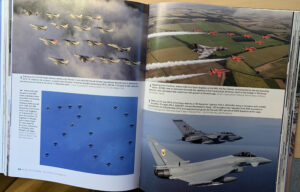 Publisher Pen & Sword completes the publication by using really good paper in combination with the choice for a great letter type. Seems insignificant, but in the meantime, very pretty and good readable! With this book, you have a real BOOK in your hands. Delicious.