Fine concept is there behind this book that already is the third version in a series of Graham Pitchfork. The book describes 21 stories of brave people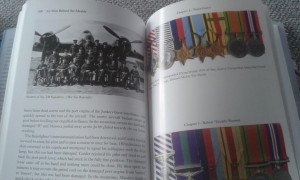 that flew and didn't flew in the Second World War in all kinds of missions. The medals that have been earned are shown and of course the stories behind those medals. By the way, there are not only stories about pilots in this book and that makes it extra interesting, in my eyes. The stories are all around 10 pages and complemented with pictures of the people, airplanes, action pictures and other situations which they encountered. The stories are foregone by an explanation about the different medals that have been awarded: from Air Force Medal to Mention in Despatches and from Distinguished Flying Medal to Militairy Cross.
Graham Pitchfork has delivered an accessible book with all kinds of interesting stories. Amongst others, there is a story about the merits of David Jones who was captain on different kinds of ships that sailed from various places to air crews that had to be rescued from the North Sea. Endangering his own live, people were rescued. All sorts of details are told about extra ordinary crashes and rescues and what went beforehand. Complete bombers ditched in the water and were sometimes found, still floating, with the crew standing on the wings. And so on, more precarious examples are given. As one of Jones' merits, he received a Distinguished Service Cross (DSC). Furthermore, never knew that the 'Air Sea Rescue Services' (ASRS) rescued around 14.000 lives in the Second World War! Praise!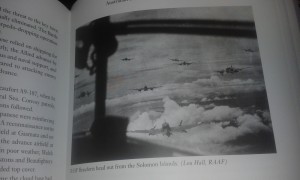 Another great chapter tells about Tom Freer, who primarily flew Beaufighters and ended up in all kinds of special, exciting missions at Italy, Malta, Cyprus, Egypt and surroundings. In the end he got shot down at the end of 1944 by FLAK at the East coast of Venice and fished out of the water by the Germans. Freer would be held captive in North Germany till the liberation in the Spring of 1945. To sum up the totals, he has been shot down twice, survived two emergency landings on water and two crash landings, prisoner camps and a long march in North Germany in the cold winter of '44-'45. He received on his 23rd a Distinguished Flying Cross (DFC). After the war he flew for a little while still Military but then crossed over to civilian aviation. He passed away in 2010 with 14.300 flying hours. What a life!… and another 19 stories like this are enclosed in this book!…
The book is made of glossy paper and that certainly enhances the black and white pictures. There are colour pictures of the medals but also beautiful black and white ones. What appealed to me is that it told about very different people and their experiences. All short but powerfully displayed by the author. Timeless stories about beautiful people! Might a fourth part show up? Hope so!