Men of the Battle of Britain!…This book is actually the most special one on my book shelve. It is the third edition of a book that was published in 1989 for the first time. The book is a kind of bible of 'The Few' that flew in the Battle of Britain. Around 3.000 people that belonged to that 'aircrew' in those days are listed in this book with their name, rank, function, nationality, squadron, picture-if available- and a short history of their careers and life. Primarily they are 'Pilots', but also 'Radar Operators', 'Air Gunners', 'Observers' and 'Wireless Operators' are listed.
The book is a tribute to the people to whom we owe that we can life in freedom nowadays. The unprecedented performance of these people in the summer and fall of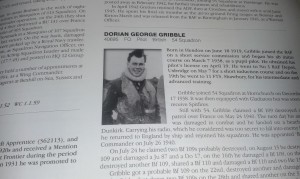 1940, turned the tide of WO II and this ensured that the Germans could not occupy the United Kingdom, herewith keeping a very important bridge head to the rest of Europe accessible for the Allied, which was also later in the war used as such. Churchill later spoke the legendary words about it; "Never, in the field of human conflict, was so much owed by so many to so few". Better and more beautiful it cannot be described. From the 3.000 people that flew, about 500 would decease during the Battle of Britain.
The people are listed in alphabetical order. The pieces of text vary in length, depending on the available information. They contain interesting information about the experiences of the aircrew such as types that were shot down by them, air battles they took part in, a plane which they accidentally bumped into (!), escapes by parachute, etc. etc. Thus, exciting to read.
This brilliant designed book with pages larger than A4 is with its 3 kg the heaviest aviation book on my book shelve and contains no data about the Battle of Britain itself. That you will find in one of the hundreds other books that have been written about this 'Battle'. The book is, compared to the previous version, updated again with complementary information about the people and pictures. The work of Kenneth G. Wynn is, considering the nature of the information and the historical value the book has gotten through time, very valuable and the Battle of Britain  Memorial Trust is at present co-publisher of the book. When you feel the book in your hands it already feels impressive and a more beautiful tribute on paper to 'The Few' could not have been made. Many thanks to Kenneth G. Wynn. The sixth star is for The Few themselves'.