If you love pictures and heavy vehicles you need to 'read' this book! Rob Dragt has a fascination for heavy mobile equipment. Earlier he wrote books on special transportation & salvage vehicles. In this book he puts the focus on this type of equipment used to transport 'written-off-aircraft' and there is also focus on heavy vehicles used in the airport operation like aircraft tractors, loaders and fire vehicles used for Aircraft Rescue and Fire Fighting (ARFF).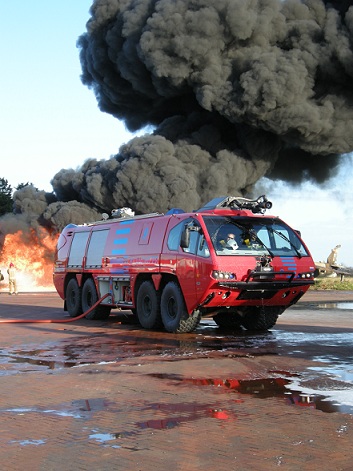 The book consists of 7 chapters that are packed with about 500 photos and captions.There are chapters dedicated to aircraft storage and transport by the company Koninklijke Saan, the relocation of all aircraft of the Aviodome at Schiphol Airport to the Aviodrome at the airport of Lelystad; the recovery and transport of aircraft and helicopters by the Recovery Team of the Royal Air Force and the use of air cushions for aircraftrecovery and equipment in the airport operation. You can see loads of pictures from lifting and transport activities. There are also photographs included of salvage operations of the Boeing 737 of Turkish Airlines and Saab 340 of KLM which crashed in the vicinity and at Schiphol Airport and the MD 88 at Eelde who overran the runway while taking off. Also some cases from abroad are included and much more.
Actually it is a 'toys for boys-book' and that makes it fun to navigate through the book. So just enjoy looking at the pictures. My son of almost 4 likes it also. If you don't like reading this is an ideal book!
However, I want to end up with some critical notes. What I do not quite understand is why the title is not displayed in English and why the Dutch text in the book is only partially translated into English. But who cares, after all, the book is about seeing the pictures. Also I think that the price of € 29, – is a bit to high, considering the fact that the book was composed with the support of sponsors.