Biggles is the nickname of Captain James Bigglesworth. He was created by the pen of British author William Earl Johns, who was both an aviator and a writer. Biggles proved to be very popular and Johns wrote over 100 Biggles books during the course of his life. His first Biggles book was published in 1932, and his last more than 30 years later.
In the sixties the publishing rights around the Biggles character came free which resulted in a mushrooming of Biggles publications by various writers. So many of these have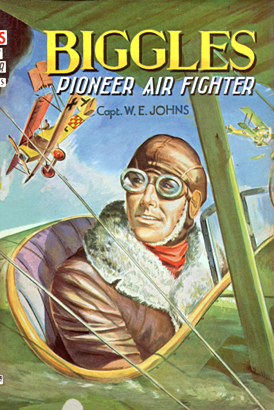 been translated into many different languages. It is therefore difficult to get a handle on just how many Biggles publications there are out there. If you are interested in seeing a snippet of a Biggles film which came out in 1985 go to YouTube: type in Biggles: Adventures in time part 1, and then go to part 10).
Biggles was born in India in 1899, but because of an illness, his father sent him to boarding school in England. He learned to fly in the early days of WWI. Between the two World Wars, he travels all over the world, where he has some exciting adventures with his friends: Commodore Raymond, the Honourable Algernon Lacey (Algy), Ginger Hebblethwaite (Lissie) and Lord Bertram (Bertie). At this point he is a secret agent at Scotland Yard. He also has its own airline called Biggles & Co. Again and again in his adventures he runs into his old arch enemy, Erich von Stalhein.
In World War II he acts again as a pilot for the Royal Air Force (RAF). After the war he experiences many exciting adventures but finally chooses to bury the hatchet between himself and von Stalhein. In the post World War II years, he becomes a flying detective for Scotland Yard and his latest adventures take place in the nineteen fifties.
What stands out in all the Biggles comic books are the beautiful coloured covers and drawings. The comics I've read, including this 'The Battle of the Falklands' (translated' from 'The Falklands War'), are interesting because they are based on lots of historical facts, but are presented in a light manner. The comic strip 'The battle for the Falklands' provides many points of recognition with 'Vulcan 607′ and 'Harrier over the Falklands'. The strip itself is pretty easy to read and has usually about 4 or 8 drawings per page. The result is … a story that is entertaining and which reads quickly!
Source: http://en.wikipedia.org/wiki/Biggles (English wiki-page of 'Biggles')