Extraordinary great to see that Jarrod Cotter has succeeded to find a format which totally sets out from previous books I encountered about the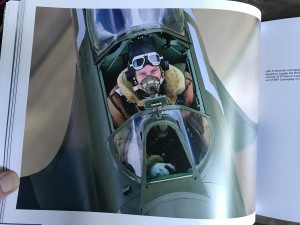 legendary Spitfire. Is there a plane more covered and discussed?! Didn't think so! This book from Cotter is simply a gem that comes on top of the earlier published books…on the top of the pyramid I mean.
The book describes in a couple of chapters the most important Spitfire version built from about 70-80 years ago: so from the Prototype K5054 till the Spitfires F.22 and F.24. What is so great about this book is the focus on the piloting of this plane. Hence not many pictures of ground bound planes. The book is loaded with 'Pilot Notes', combined with magnificent, mostly large glossy pictures and descriptions of planes by test pilot Jeffrey Quill, who has flown in all the types. A lot of the Pilot Notes, by the way, come from the familiar blue and brown books from Air Ministry and others. A great deal of pictures have been made in the last couple of years, but there are also some older pictures in it, plus fans of cockpit pictures will be happy!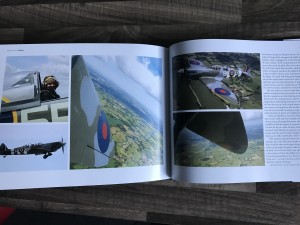 The book closes with a few beautiful appendixes, amongst which, two appendixes that describe which phases you go through when you take off with this plane. Also great is the appendix about the few women that flew Spitfires. They did this at the Air Transport Auxiliary (ATA), which delivered planes at airbases.
All in all this is an exceptional passionate book of Cotter, who we of course already know from previous books he wrote about for example the Lancaster and the Battle of Britain Memorial Flight. The one thing that I miss in this book is a button for that fabulous authentic Spitfire sound! If you read this book but especially when you view it, you only want one thing and that is to fly along…and you can!…Let's hope that we can see and enjoy this plane for a long time coming!