This biography of Stanford Tuck was first published in 1956 and as a youngster who had a great desire to become a pilot I have read this book with red ears. Now 60 years later it is still a nice book to read for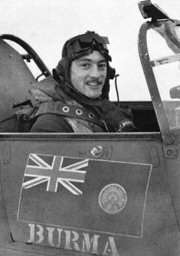 everyone interested in the history of WW2 and especially in the Battle of Britain were Stanford Tuck played a star role as a fighter pilot with 29 confirmed victories.
Many books were written and published about aces that fought in the Battle of Britain, but this book has the advantage that the author not only highlighted the battles that were fought by Stanford Tuck, but spent much writing about his remarkable character and the circumstances of his private life.
That deepens the quality of this biography and offers the reader 371 pages  interesting and adventurous reading. The details of the air battles and Tuck's continuous efforts to belong to the top of fighter pilots and command the best squadrons of the RAF keeps you glued to your chair. He was also one of the promotors to conduct strafing flights over the Low countries (Holland, Belgium, France).
A colourful paragraph is also spend on his promotion visit to the United States after 2 years of air battles were he introduced RAF's fighting tactics to the US pilots. The visit ended nearly disastrous flying a US P-43 in a dog fight with some American fighter pilots after which he lost his orientation and made a precautionary landing due to fuel starvation.
An important part of the book is dedicated to his period as prisoner of war after he was shot down in France and his several failed attempts to escape from his prison camp. However finally he successfully escaped together with a fellow pilot officer and followed by a hazardous journey to freedom amidst the fighting Russian Army soldiers. Larry Forrester didn't forget to include the many other aces in his book with whom Tuck fought his air battles and created hereby an atmosphere of the exclusive club of very brave and driven pilots that won the air war over England.
It is more than 80 years back that all this happened, but it came all back to life again when I did read this fascinating biography.