The title sounds dramatic and the contents of this book are indeed. We in the present time are only familiar with the Goodyear airship which can be seen on airshows or public events, but during the first WW and the years afterwards airships were a common sight. Big and impressive and it seemed a safe way of global transport, but the reality was different. This is a revealing book about this gigantic air transport system that dominated the skies in the beginning years of the last century before the heavier than air planes took over.
The basic story is about the construction, building and the main trip of airship R101 that was supposed to show the world that Britain was still ruling their overseas dominions by using a transport system that could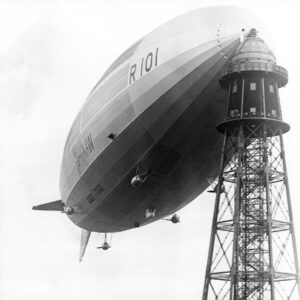 transport passengers and goods over large distances (India, Canada, Africa) and faster than was possible by any other way at that moment.
However, as we learn in this book, airships were dangerous because of the flammable gas, prone to bad weather, difficult to handle and they needed costly shelters and parking tools along their trip. Besides the story about the life and tragic death of airship R 101 and about the most important persons that were involved with the creation of R101, Gwynne the author, explains in a simple way the complex technical systems that were used to control these gigantic (often 700 foot plus length) bulky with the flammable hydrogen gas filled constructions. When reading the book, the story seems fiction because of the always present anxious situations, but that is also the strength of the author: the variation between the technical side and involving the important human factor that has strongly influenced the dramatic outcome.
It is really one of the most fascinating and interesting books I have read about airships and Gwynne proves very good documented and researched why airships and in particular Britain's R101 were dangerous and doomed as a global air transport system. Samuel Gwynne is certainly a very good story teller!
The printed versions of the book contain some nice and -also- horrible photos. Nice detail is that you can also listen to this book via an 'audiobook'. Find it on Amazon for example! …or buy a paperback or a kindle version.
The book deserves …yes!…6 out of 5 stars!