Andreas Rupprecht writes cool books! And who says Rupprecht, says China! This is the umpteenth book of him, published by Harpia Publishing. Now a real 'Flankerbook'! I am really very happy with this publisher and what they have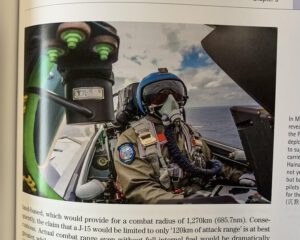 published till now. On their site it states at the category 'Strategic handbooks', only 1 book, but, as far as I am concerned, all the books – also this one – can be stated in this category, when it concerns nowadays airforces or other flying army units. As the quality and information value can be rated as 'good'!
This book is solely committed to the Su-27 Flanker employed by China, as so to say, the compeer of the F-15. That China choose this plane was the result of a couple of failed or slow projects internally in China. Anyway, those projects didn't deliver what was expected of them like with the J-8, J-9, J-10. The first contract of the Su-27 dates from March 1991. Yes, about 32 years ago! I remember very well that I saw this plane flew backwards at Le Bourget. That must have been middle of the 80's. Super fantastic that was! After that, also contracts were signed with the Russians in 1995 and 1999. In total it concerned about 80 planes that were produced in Russia. Actually, not that many. Medio 90's, agreements were made about the Chinese production of these planes. Exact numbers are unknown, but probably around 200. This plane went into history as Shenyang J-11. It was supposed to fly from 1998 and till 2019, about 440 planes would have been built. Rupprecht describes well, but also short and powerful how the story started from the buying and implementation of this plane. An extraordinary fact is set out around a typhoon that somewhere in 1996 or '97 or '98(!) would have damaged/destroyed between 14 and 17 Flankers at the base of Liancheng/Longyan. Obviously that is an expensive loss. A few of them would fly again.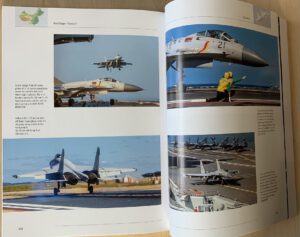 Rupprecht tells clearly in some chapters, how complex the history and development of all the jetfighter variations actually is that were produced. It becomes apparent from which Russian versions the Chinese versions were built and also if the planes were produced by Russia or built in China itself. In Russia the Su-27 was further developed to the Su-33, which was built for aircraft carriers. Shenyang baptised this type the J-15 and till 2019 about 50 were produced. A chapter of almost 30 pages is devoted to the weapon systems that are available for the various types.
Most interesting I find the chapter about the way in which the planes are in use at the PLAAF. 60 pages long this gets proper attention. All squadrons are shortly mentioned with their base and type of jet and of course a picture, but also a division is made between the periods and how things were organised and still are. Nice to mention is the great satellite picture of the J-15T-prototype (aircraft carrier variation) on a land base, connected to the steam catapult. Source is Google Earth, but an earlier version that the current one 😊
Also, this book stays captivating till the end! There you will find a family tree of the types, a map with all the flight bases and also side views of all the types. All in all, a book that is interesting for multiple audiences, like defence specialists, aviation enthusiasts, plane spotters and modellers. What I almost forget to mention is that this 250 pages counting book is published on perfect glossy paper. And 266 very good colour pictures are enclosed and 27 'artworks', the side views.
Sorry, really 6 stars out of 5! Rupprecht, please keep writing!