290th Review Modern South Korean Air Power- The Republic of Korea Air Force Today- Robin Polderman
A perfect book for on the shelves of the MOD's of North Korea, Japan, China and Russia! 256 pages full with good information about the air power of South Korea. In the meantime I do know this series of Harpia Publishing a bit and so I know I really get something in my hands when I open the postal package. This time it is this book from Robin Polderman, who can put this beautiful book to his name.
In this book printed on a pleasant 21x28cm format and certainly 1 kilogram heavy, insight is given in a clear and structured way about the air power of South Korea. Of course, I knew that South Korea borders on the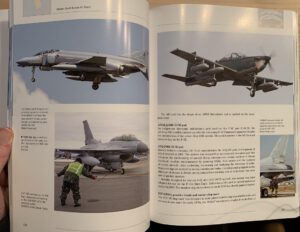 peaceful North Korea of mister Kim Jong Un, but furthermore didn't realise that the relation of South Korea with Japan, China and Russia is also not too well. All in all, it is thus a special situation in this region that – seen through the eyes of South Korea- asks for a fully armed force of which the Airforce is an important part.
The built up of the book is reasonably in line with the other parts that I know of this series: introduction, bit of history, built up of registration numbers, markings and such and the squadrons, descriptions of all airplane types, weapon systems, training for pilots and 'closing' chapters about future developments and modernisation. The book also pays special attention to South Korea's aviation industry, in-depth research about the situation in the concerning region and the squadron symbols of South Korea and the USAF in Japan and Korea.
What I found particularly interesting about the Airforce there is the enormous amount of different plane types that are in use; from AN-2 till F-16 and from the Phantom till KAI TA-50 and from Boeing 737 till HS.748. In total there are about 30 plane and helicopters in use. This is historically (of course) grown because Korea also had to be independent in the region to employ all necessary 'tasks' by itself. Think for example about Early Warning tasks, but also air to air refuelling. The enormous heap of plane types will cater for a huge amount of career paths! I do not know any airforce with so many types for a country with only a good 51 million inhabitants.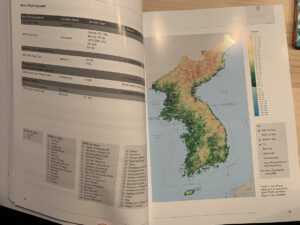 Also interesting to read is the way in which Korea employed her first Phantoms. This was partly due to the contribution of Korea to the Vietnam war. Chapter 8 about the countries in the neighbourhood is fascinating. It tells about the armament of North Korea, China, Russia and Japan. Amongst others it describes about the missile systems of North Korea but also about the 6th range old Migs, which came -also- into the country with secret cargo via Cuba. Directly from Russia also helicopters and jets entered the country. By the way, I cannot imagine that the most modern Migs of North Korea nowadays are flown 'good' and to its limits. And I also fear that the North Korean planes are not 100% fuelled to prevent that pilots flee to South Korea or other countries. An incident in July 2019 is described in which Russian planes flew opposite South Korean planes. A bit further on in time, it also was troublesome between South Korea and Japan. Enough action thus in that region and practically set out by the author.
All-in all a very beautiful book on a good A4 format. The 181 pictures are of perfect quality and partly taken by the author himself. Next to that the book contains some charts and country maps. I do miss the scale on the maps, by the way. The text is good to read and the level of details is very great. It will go on my bookshelf with the rest of the series.