289th Review Unmanned Combat Aerial Vehicles- current Types, Ordnance and Operations- Dan Gettinger
Of course, it had to happen one day; a review of a book about unmanned aircrafts. And to be honest, I resisted a bit against it, against books about this type of planes, because these planes do not reflect the romanticism that piloting had and still has for me. But in the meantime, it is 2021 and unmanned aircrafts cannot be expelled from this world and certainly not out of the military world, as warfare changed enormously in the last decade. Satellites and also unmanned planes have made their entrance. This is cheaper, more efficient and safer for mankind. Dan Gettinger writes this book about unmanned planes, specifically UCAV's. UCAV stands for 'unmanned combat aerial vehicle'.
The author starts with a short introduction about how drones and UCAVs started, a couple of definitions and a standardisation. These two words are mixed up throughout the book. There are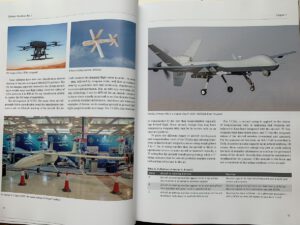 more terms and abbreviations for this type of aircrafts, but in this book the author only writes about armed 'UCAV's and 'drones' that are still in use. UCAV's can appear with wings but also with rotors and can be armed with bombs and/or missiles. A lot of UCAVs need a start and landing lane but there are also ones that can be launched by hand or a launching device. All planes need interaction with 'men' who you can find in the base station. The UCAV's can be divided into three categories. Category 1 weighs maximum 150 kilos and can fly to 5.000ft, whilst category 3 is heavier than 650 kilos and can fly up till 65.000ft. Category 2 is in between.
I must say that it is not difficult to get the hang of this book and it contains lot of interesting facts, for the interested reader as well as for defence personal. At the time of writing of this book, 96  different UCAV's have been produced by 59 different parties in 27 countries and are in use or still being developed. Three quarters of the UCAV's have seen the daylight in 2015 and since that year, the number of countries that produces UCAVs has doubled. That says something about the speed with which this kind of weapon systems is taking flight. What stands out is that a lot of UCAVs that are in use have been delivered by Chinese parties. Dan Gettinger describes which countries are busy with obtaining UCAV's and by which countries they probably will be delivered. Furthermore, there are some interesting statistics about, for example, the amount of produced Hellfire missiles and flight hours that those apparatus make. This kind of weapon systems cannot be excluded from modern day warfare and the developments will only increase in the coming years.
In chapter 2 the producers per country and their UCAVs with their weapon systems are described. All is neatly documented. All systems are enlisted with clear characteristics and good pictures from all kind of sources.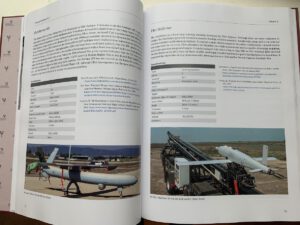 Chapter 3 sets out the most import conflicts and areas in which the systems are used. From Afghanistan and Pakistan till Iraq and Libia and other different areas in Africa and the Middle East. Per region/country, the countries with their systems are described and in which way the systems have been used. The sometimes very specific information seems to be very good documented. It tells about numbers and types of attacks, amongst other things.
The book is perfectly designed, as we know that from Harpia Publishing. That means, glossy paper and a solid cover, good colour pictures and a comfortable reading font. This is part 1 of a so called 'Strategic Handbook Series'. Although it contains a lot of detailed information, the information itself is good and easily readable. I am curious about what will follow in this series!
In any case, this book cannot be absent on a couple of departments at Ministries of Defence worldwide.