288th Review Continue to hold – Gary Clark
This is a Funny Book! It's all about ATC and the ATC world! And that this ATC world contains humour is well seen by this artist. The book with 160 pages is full of cartoons and other humour, all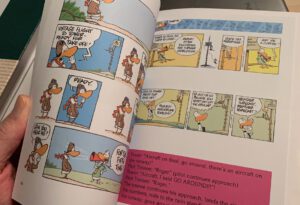 cartoons are drawn by Australian Gary Clark, whose life is centered around aviation on one hand and the making of cartoons on the other hand. He once was at 'arts school' where he learned to draw cartoons. By the way, he has also been flying since he was 15, so he knows where he is talking about! He flew gliders and moved on to a PPL in the General Aviation and this last made him decide to develop a new 'character' for his cartoons; 'the ATC-duck', the duck that quakes to make everything go all right in the air. And that with humour! I personally have been talking to air traffic controllers for years… and yes, every now and then I also really have to laugh about everything that passes on the frequencies; from people that do not totally understand a message or speak bad English, for whom everything needs to be repeated 6 times; till some small but also large misunderstandings.
The book contains 450 short cartoons and also some 'communicative exchanges' between ATC and pilots that actually have taken place or have been made up, but true or not, they are funny to read. The cartoons contain, next to the ATC-duck also other ducks; one always has flight instruction and cannot even fly after 5000 lessons; the flight instructor duck; the expert duck; swamp ducks, who like aviation and other 'official ducks' in a diverse variety.

Gary Clarks makes cartoons since 1981 onwards, which have appeared in different booklets. I have a few on my bookshelf and have to say that I always find it fun to read a couple. The cartoon stories are mostly 3 small pictures but there are also ones that are longer. I have to say that I am charmed by the lay-out, composition and colour of this took that was produced by Martin Leeuwis. It is a joint venture between him and Gary and it is the simplicity combined with humour that makes life with these booklets a bit more fun and airier.
Gary, please continue drawing these cartoons! Looking forward to your next book, so no 'final and full stop' but a 'touch and go'!
Buy the book via www.humor.aero or www.swamp.com.au for almost nothing!