283rd Review Mayday Mayday Mayday-A Pilot's memoirs- Brian Clapp
Brian Clapp has noted 23.000 flying hours in his journals. 3000 of those hours are RAF flights and, in that time, he flew 8 years in – oh yes- Shackleton's. After that he transferred to the Nimrod,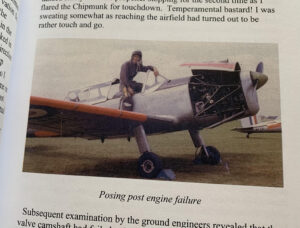 followed up by a civil career at various airline companies across the world where he flew different types of Boeings, amongst which, the 747. To be short, then you have enough ingredients for a nice book!
Were some retired pilots choose for a chronological story from their flight experience, this writer choses a different formula. A formula that appeals to me! Clapp mixed in the more than 20 stories counting book 3 things: 1) his own experiences in aviation and more specific his 'pan-pan' and 'may-day-situations'; 2) similar incidents and accidents in the flight history and 3) the most important one: a good deal of humour mingled with a bit of cynicism towards the RAF. Interesting, educative, but also lightly, here and there, so fun!
Clapp has really flown anything and with all those years of experience, gone through a lot. It tells about flying low across waters towards the North Pole in search of Russian submarines, till engine failures at Chipmunks, and from unplanned stall during take-off till bad approach procedures and RT. And let we not forget the bird collisions. Clapp writes that he one time had to flight circuits in a Vickers Varsity (that is an old one!) and that his co-pilot in the climb up above the runway on low height, selected the wrong slabs, which made the plane stall and that it just ended well. Next to that Clapp refers to a special case which occurred a bit later with another Vickers Varsity. The WF334 flew on a relatively low height and collided with a Cessna 337 Super Skymaster. The Cessna crashed. The cockpit crew escaped directly through the shutters in the cockpit! The pilot had not put on his parachute correctly and fell out of the harness and in the end did not survive this escape. The plane was about to crash if it was not for one of the 3 navigation students, who were also aboard, that managed to make a crash landing. All 3 students survived the crash! What a story!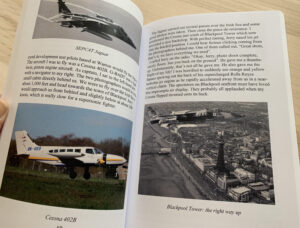 There are also fascinating short stories of other calamities, as engine fires, crash landings in Shackleton's; the largest flight disaster of all times on Tenerife; or the pilot who flew with a Hawker Hunter underneath the London Bridge and therefor was rewarded with resignation and many more beautiful, extraordinary but also sad stories.
All-in all an original book of 160 pages. Clapp's writing is easily readable, and his stories are accompanied of pictures of planes, disaster places etc. This book certainly gets a good place on my bookshelf!
Good to know that all proceeds from the sale of the book are being donated to charity, specifically, Helensburgh and Lomond Foodbank!