275th Review Guerrilla Nightmare- Luftwaffe Stukas at war against Tito's Partisans in Yugoslavia 1941-1945- Lovro Persen, Mario Raguz
How it started
In the beginning of the Second World War Hitler wanted to secure his southern flank  and therefore invaded Yugoslavia together with the Hungarians and Italians in April 1941. The resistance was weak and after 11 days of fighting the Yugoslav Army laid down its arms. Shortly after two main factions started a guerrilla war against the Axis namely  the communist-led Partisans and the royalist Chetniks. Later in this war the Chetniks collaborated with the Axis and the Partisans led by Tito became the main opponent of the Germans.
The Germans soon started an offensive against the Partisans thereby using the Stuka Ju-87 dive bombers as their main weapon. These  warplanes were very good qualified for supporting the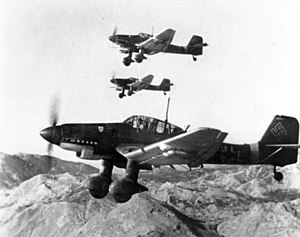 German ground troops that fought against  the small and wide spread guerrilla forces in a hilly and wooded landscape.
The Stuka
Soon the Stuka became the most important air weapon in this guerrilla war but the Germans lost also many ground troops due to bad precision of these bombings. This was the beginning of the use of small observation planes (the Fieseler Storch) that led the bombings. The partisans were scared to death of these air attacks killing many of them but causing also many civilian casualties. This was the reason that Stuka crews that were captured were executed on the spot. Every air operation of these German attacks is recorded. Beginning 1944 the Allied air forces started bombing the German airfields on a large scale and these operations are listed also including the air battles. More on the Stuka aircraft via the Wiki .
Unbelievable how detailed
It is really unbelievable how detailed all air operations of the Germans and Allies are documented in this book including many black and white photos of crew members and plane types. The last part of the book includes a list of all identified Stuka's involved with their history and colour schemes of the operational squadrons. A historical edition for those people who are interested in this period of the second world war. An unique book! All air operations described are containing so much details that this book seems more than an informative and original document instead of a reading book. It contains 152 pages with many original photos and executed with a beautiful cover and a fine quality paper.