The book about the 'Missile with a man strapped to it', 'Starfighter' or 'one-o-four', starts with the remark that it is quite possible that the F-104 is one of the most photographed planes of all times. I think that Bowman is right. Unfortunately, I have not been able to take many pictures of a flying F-104 Starfighter. Just because it went out of service in the Netherlands when I was still too young. Luckily the Italians and Germans kept it in the air a bit longer in and around the Netherlands. The plane had on everyone, including myself, an incredible power of attraction. Why? Its shape? Its sound? Its maximum speed of 2600km/h? No idea, but it had something magical and it still has.
Bowman has a created a beautiful book that is printed on great glossy paper. 320 pages full of pictures. What strikes is that the book contains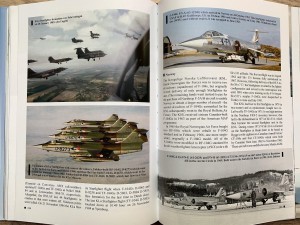 incredible much details; numbers, quotes and stories of pilots, information about the carriers of specific planes etc etc. A small 2600 were built from 1954 by Lockheed but also by Fokker, Fiat, SABCA and Canadair. The NAVO used the plane from 1961 till 1985 after which it was replaced (usually by the F-16).
The book has 11 chapters that describe all sorts; its legislative history, its use by the NATO partners; about the fact that many have crashed; about the use by NASA and all kinds of things. A great heap of quite interesting details in all those chapters and pretty easy to read. What I, for example, found interesting was a piece of accident description of June 8th, 1966 when an F-104 lost control, bumped into the Valkyrie that also flew in its formation. The F-104 broke in 2 and also the Valkyrie crashed. A black day for the USAF. Multiple people deceased. I had never heard of this special incident. What is a bit disappointing about the book, is that the sources are poorly registered. Not that I doubt about the accountability of the information, but it had been neater if the sources were clearly registered.
22 different types of Starfighters were invented and drawn of which most types were actually built. The plane was vulnerable for various disorders, which for example, resulted in the fact that in Germany alone already 292 of the 916 planes crashed (30%!) with 115 deceased people as a result. The plane wasn't called a 'widow maker' for nothing.. I always wanted to be a jetfighter pilot myself, but don't know if I had wanted to fly the F-104!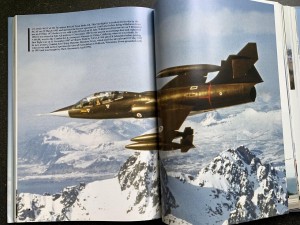 Interesting also to read is that the first F-104's were delivered with an ejection seat, which would shoot out the pilot through the bottom of the plane, because of the risk of colliding with the tail when shot out above. Later these seats were replaced by ejection seats that shot out above. This I didn't know!
All-in all a great book of Bowman. Tons of pictures, also of which I hadn't seen a lot. Beautiful air to air pictures and pictures of all users are included. The text is easy to read and I am happy with this book on my bookshelf!