Great book this 'Flashpoint Russia'! In the past – the eighties- I looked aimlessly to pictures of the 'modern hunters' of that time. The pictures of the Russian jet-fighters were often black and white, sometimes in colour, but always granulated. This on the contrary to the pictures of the Western jet-fighters and other aviation planes. Of course it all had to do with the communication strategy of that time. In the meantime we are 30 years further and the Russia of then is not anymore. Times have changed. The Cold war from then has got different appearances in these modern times.
The communication strategies of the current Russia have also changed. At least with concern to the information about her planes. This also gives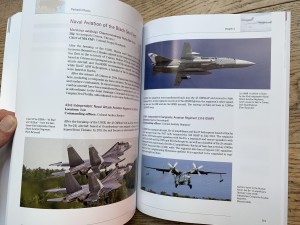 more openness with respect to pictures and the visibility of planes for 'the West'. Author Piotr Butowski has with all the information that exists and which he has analysed, created this beautiful book.
What I like about this 142 pages counting book is that it is set up very clearly and orderly. This counts for all the books of this publisher in this series. This book tells about a piece of development throughout the years; organisation of the flying parts (aviation 'Aerospace Forces' (VKS), Navy (VMF), border and security parts); Command structure, divided across districts and the 'Northern Fleet'; information about how the command structure looks like and a chapter about the purchasing of planes from 2001 onwards. But also the used signs and an overview of the numerical strength. The focus in this book is on Aviation and Navy.
For the Aviation as well as for the Navy short but powerful descriptions are given with flow charts and they are foreseen of great pictures. This gives insight on how the parts are organised and localised, types of planes, helicopters and yes even the Commanding Officers are listed! By mentioning this the books are rather quickly dated, I am afraid, because of the commando changes. But it still remains a beautiful book.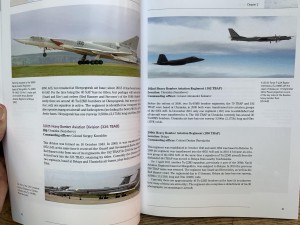 What I have always found special about Russia is how you defend such in an immense big country and what this means for the locations of your bases, your equipment, planes, people etc. This book shows that is a great way.
The author has made use of a lot of private pictures and also pictures of the Russian Defence. Interesting is also the description of the development of the current commando structure after the fall of the former USSR: how on the last moment planes were flown over to current Russia or how this was prevented! Extraordinary is also the knowledge that a lot has been renewed over the last 20 years. This has made that, approximately, more than 1200 planes have been produced and delivered, from which the most (about 90%) in the period 2011-2018.
All in all an interesting book and I am curious about what the MOD's of the surrounding countries and the NAVO find of this book!