Sometimes I am jealous of the British! (and sometimes also not, by the way!) But now I am, when reading this beautiful colourful book of Flight Craft; what an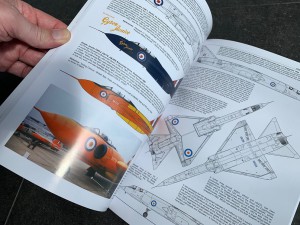 aviation history has been created in a couple of decennia! And here we are just talking about the 1945-1975 years that are described in this book.
Malcolm V Lowe and his friends have composed an attractive book of 72 pages, which from cover to back is chock full with photos and drawings of all the planes that have been drawn and built in these years in the UK. What I firstly wonder about then is how many man hours there are in all those designs, engineering and then building. This is without the test flights, let alone that after that planes were sold and build! It must have been millions of man hours! It would often be prototypes and a reasonable part of the types found their way to the RAF or a different client.
The book contains four chapters that all cover a different time period; 40's, 50's, 60's, and 70's.
Very clear thus! Next the planes that were built are displayed by photos and drawings of sight- and top view in combination with compact pieces of informative text. You will find, amongst others; the English Electric Lightning, the Vampire, the Boulton Paul, the Sea Hawk, the Hawker PP.1127 (forerunner of the Harrier), the Comet, the Hawker Siddeley, the Canberra, the BAC 221 (which I could have drawn myself) and many many more planes.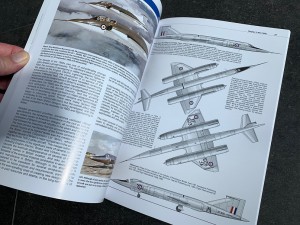 What is nice is that often also is stated where the specific plane is or how it has come to its end. This I find interesting. The texts are to the point, informative and good readable. Little to no technical details, but a lot of information about the history, users and implemented colour schemes. Not too much detail, but also not too little.
This book is a part of the 'Flight craft' – series, published by Pen & Sword Aviation. I am looking forward to the follow-up of this book for the years 1975 till present!