Review Middle East @ War- Series – Tom Cooper
4 great books I have of Tom Cooper – published by Helion & Company – and I thought that I would just combine 'that' to 1 review. Here it is! I have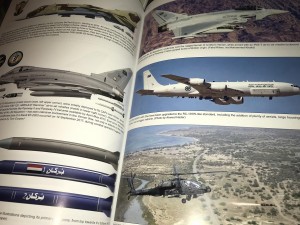 the numbers 11, 12, 14 and 15. They tell about '´Hot skies over Yemen' (1962-1994, 1994-2017) (vol I and II), Mig-23 Flogger in the Middle East (1973-2018) and the Russian military intervention in Syria (2015-2017). The 4 books on A4 format contain 64 till 74 pages and are part of a whole series of books that tell about airplanes, conflicts and wars in the Middle East. The 4 books on my bookshelf tell about warfare, planes and air wars (…) but in the other books from the series it goes also about the conflicts and not specific about planes.
….but first something about Tom Cooper. From the stack of airplane books that I have in the house (is it 2,5 metres high?) most of them are from authors that have written 1 or 2 but not more than 5 books. Tom Cooper didn't (co-)write 1, not 2, but dozens of books and next to that about 1000 articles. Praise to him!
Who will match up to that? His writing is inclusive the development of card material and side views of planes and helicopters. Tom Cooper deepens his research the last years more and more into countries and wars in the Middle East and Africa; and my perception is that not many books about this are published. Great that he does publish about this. Often stories with nasty details and unfortunately also a lot of population wars.
What catches the attention is that the books are beautifully designed, all side views of planes and helicopters (in colour), land maps here and there, black and white pictures and some colour. Each book contains dozen of pictures and combined with the good lay-out, makes this great reading material. The text is captured in two columns, which makes the reading easy. The paper is glossy, which makes it a bit heavier, more beautiful and gives – certainly with the content- a feeling of quality!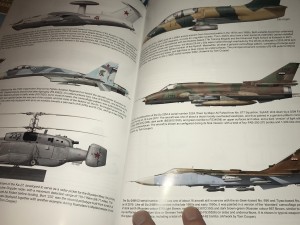 What about the content? Except from the Flogger book, the editions start with a bit of context about the land, region and developments, after which the emphasis comes on the chronological developments that are relevant for the historiography. Although I am not a weapon specialist and I have not researched the concerning conflicts further, I cannot withdraw me from the impression that Tom Cooper knows well how to represent what was going on in these countries with these books, very compact, readable and factional correct. No superficial information, but also not numerous pages of details that no one is interested in, but short and powerful information which is attractive for the interested in conflicts. Combined with what the share of planes, air forces and air wars was that played a role here. Sources and pictures are clearly stated. Tom Cooper tells pleasantly readable about various details that are important for the notion of the events; about persons, developments, weapon systems, the role of planes, battles, crashed/shot down planes; all of which complemented with charts etc. etc.
Helion & Company has with these series of books really a good kind of trump were it concerns compact readable good books that tell about the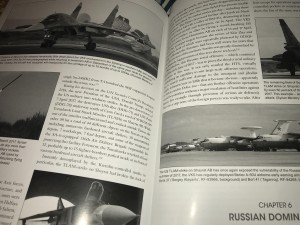 conflicts in the Middle East. The conflicts are made well accessible with these books and we do need that in these times with heaps of fake news and other forms of falsification of history! In fact, the Middle East @ War series is a continuation of the Africa @ War series where Tom Cooper already is author and co-author of the various publications. Seen the developments in the Middle East through the centuries till present, I expect that this series is long not over! Curious about the share of Tom Cooper in this!