First 100 years are tough- Martin Leeuwis
Martin Leeuwis took the 100-year mark for civil aviation and KLM in The Netherlands as an opportunity to publish this book with all kinds of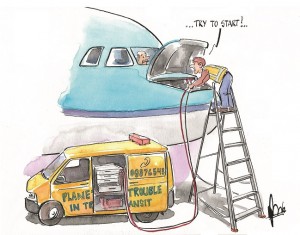 cartoons and drawings. Doing this now makes sense, for Martin used to fly himself – coming from the air force – with KLM on the DC9 and the 737. Spread over 200 pages are drawings by 25 different cartoonists from around the globe. Most drawings are in full colour and several of them were made especially for this book.
With his extensive series of publications the publisher from Brabant by now has become a benchmark and is the absolute number 1 in the world when it comes to books with 'aviation humour'. This Martin Leeuwis Publication is number 33 (yes thirty-three!) of a series of which the majority indeed is about humour and contains cartoons, anecdotes or other remarkable aviation events, both civil and military. By now I have several of them on my bookshelves and they are very nice to have.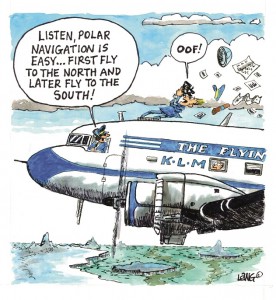 What I personally like about Martin's books is the variation I find in all of his books; different kinds of stories and/or cartoons in nature, style or contents and this edition is no exception. To me the books are ideal for 'the male' who is a visual type of person and just wants to get 'short fast funny' information.
So from me 'sincere congratulations to civil aviation, KLM and in particular also Martin this year!' I hope many more books will originate from Martin's hands. His books are available from www.humor.aero and www.luchtvaartverhalen.nl and www.goodlanding.nl.