'Carrier Aviation in the 21st Century'! Great brand new book this is! The 256 pages of this voluptuous book has 9 chapters with descriptions of countries that have one or more aircraft-carriers (Brazil, China, France, India, Italy, Russia, Spain, United Kingdom and the United States). And let we just make things simple!: most countries actually have 1 (one!), China has 2 and the US has 11 (eleven…eleven!….more than all the other countries together). We haven't even added the 9 'Wasp and America class' carriers of the US, which mainly contain helicopters and Harriers! And indeed, also the United Kingdom has a chapter thanks to the HMS Queen Elizabeth carrier which in 2017 was water born.
Each chapter is written by an expert of the concerning country and exist of 10-12 pages on average. For China and the US the chapters contain a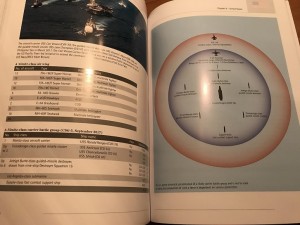 couple more pages, considering their larger amount of carriers. The book has multiple razor sharp pictures of the carriers and planes that are stationed on it. Of course also the land bases of the planes are here and there shortly mentioned, but it has not the emphasis. The books of Harpia are all printed on glossy paper, so also this one. That makes it just a little bit heavier, making the pictures stand out more and thus you also have a beautiful book in your hands!
The book starts with a short description of the most important developments concerning carriers in the last century. Not only technically but also in a broader defensive perspective. For each country is than set out what the most relevant and recent developments were and are. Think of, ambitions, squadrons (and there many symbols) the planes, helicopters etc. What I did find interesting are the visualisations of the carriers together with their possible escorting ships that show the 'combat range' and the range of the carrier.
At the back of the book all the carriers are listed again with a floor plan and the most important characteristics, sensors, weapon systems aboard. All in all a beautiful book just to have and to read and view. I am curious about the offensive power and thus the value of such platforms in the future in resemblance to other forms of 'power' like warfare with cyber, hand wars etc. We will find out! Another great book of Harpia Publishing in their magnificent series of editions. Curious what more will be coming from Harpia!