In the past when I was young…30 years ago..or so.. the air was still congested with planes. At least in the Netherlands! Anyway, that is my experience.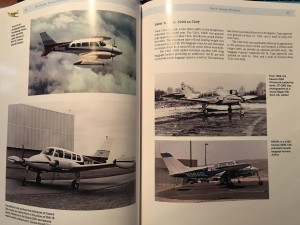 If it weren't jets, then it was a Boeing E3A Centry and if it wasn't a Boeing, than you would hear the unmistakable sound of a 2 engine Cessna; a nice deep throbbing sound. Unfortunately I hear it less and less, but that of course can be my ears or my address.
To me that time represents the era of the 'real beautiful' planes. Since you could often found me at airports, I grew up with the Cessna. I must have looked thousands of time at a Cessna in my life! Especially the 150 and 172, but also often types from the 400 series. My favourite was the 421. Back then already an elegant type and she seems to become prettier every time I see one. Too bad they are becoming scarce.
We know Ron already from previous books: 'Cessna 172' and 'Classic Light Aircraft' and now Ron Smith comes with this very beautiful book about the Cessna 300 and 400. That man must have an enormous database of pictures and Cessna knowledge! Does he even have time for other things than Cessna's?!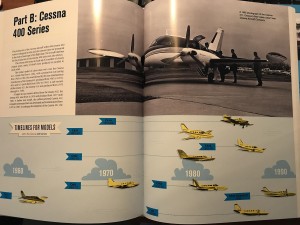 The book is simply built up with a part about the Cessna 300 and a part about the Cessna 400. It has a huge amount of pictures with short to the point texts about the development of all the types with their characteristics and other interesting details. You will find pictures and information about Cessna's from around the world. Mostly the picture are from the exterior of the plane but every now and then also from the interior or the cockpit.
The great thing about the book is that it has a kind of retro-design and that appeals to me a lot. For me it is a good book just to look in and read a bit of text here and there where the pictures attracts more of my attention. There are also two well formatted timelines in the book.
Already curious about his next book!