This is one of the many photo books published by Pen & Sword Books in A4 size with 96 pages filled with an overview of the history of this Russian warplane with more then 170  black and white and colour photos of the Su-15. The authors describe within the smallest details the development and the operational live of the Su-15 including the well known weapon feat of the shoot down of a Korean Boeing 747 by this jetfighter. Of course there is a lot of research necessary to compose a book in which  so many  versions of this type of plane are described.
I like myself mostly the part of the book in which the operational  live of the Su-15 is told during its service in the Russian Air Force, but collectors and scale modellers will also be interested because of the many photos this book contains. The description of the many plane versions that were build, colour schemes, drawings, photos of scale models and technical details are all adding to the value of this book especially for scale modellers.
Generally there is also much information about the organisation and functioning of the Russian Air Home Defence Organisation and it is obvious that it is not so watertight as the Russians make believe this to us. It was on the blue prints an imposing plane with impressive characteristics, but as with the  development of so many American military planes was the case, the actual practice and operational results were disappointing.
Low flying enemy targets were difficult to trace despite the support of home defense radar systems and from the stories described  in this book it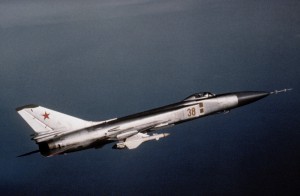 appeared that targeting and destroying of enemy planes was not very successful due to the  design of the Su-15  and especially the bad view from the cockpit. The stories about the shoot down of 2 Korean civil passenger planes, reveal also the problems in the internal communication between the home defence organisations.
When I visited an air force museum just outside Moskou with many Russian war birds that were faced out after the cold war period, the Su-15 stood out because of her huge sizes. It showed more as a tactical  bomber instead of an interceptor jet fighter.
A lot of attention is devoted to technical details in this book and complemented with actual stories from the operational period which makes this book nice readable. The Boeing Killer is a book for the collector, who is interested in the history of Russian war planes ans especially  this type of plane. A nice document with beautiful imagery.
Photos credit to Wikipedia.