Two books of each around 300 pages full with my favourite pictures!
Splendid books…without exaggeration. When you see the front pages with the formation of  Hunters and Lightnings, than you are straight back in those years in which an enormous variety of planes flew within the RAF. The Second World War had only just come to an end. Not many countries can match the numbers and variety of the RAF. Keith Wilson was also inspired by it and therefore conducted these two books which just are a feast for the eye.
Of each year, the most beautiful pictures of special moments, like maiden flights, inspections  by the queen (!), great formation of planes, etc, etc, are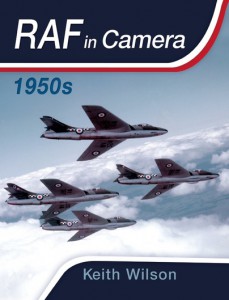 incorporated. Almost all pictures come from the archives of the Air Historical Branch, the conscience of the RAF with respect to historical data, under which the picture archive. Keith Wilson must have been there for many many hours, because to me these are really the most beautiful and unique pictures. They come in all kinds of sizes, black and white as well as colour and on good paper. More colour of course when going further in time. Wish I had been photographer in that time! Blimey, I wasn't even born yet!
Each chapter in the books covers a year and starts with a summarized and good readable overview of the most important events in that year. So, 1956 tells about the Suez Crisis and 1957 continues shortly about that and moves than on to overseas activities of the RAF,  termination of the 'Royal Auxiliary Air Force', and tests with nuclear bombs, amongst others. Enough happened in those times! Also, when you are not living in the UK, this is all quite interesting. All pictures that follow come with good interesting descriptions that tell something about the background of the picture. The author has given real attention to this. At the back of the 50's book are a few appendixes that show how many planes the RAF had in operation…at its highest that were more than 6.000 in 1952 and at its lowest in 1959 that were more than 2.700 planes. How times could already change than! In 2015 there are (only) a few hundred!
Keith Wilson obviously is just a lucky dog. He has made 1.500 air-to-air flights to photograph about 2.000 different planes. It gave him a database of around 300.000 pictures. I think I find his 'office' slightly nicer than my own… He really made a page turner with this book. This is how you make aviation books! On the back cover it says that more books will follow in this series. Count me in!