This e-book describes the Grunman F9F Cougar, the first arrow wing jet of the American Navy. With the appearance of the MIG 15 above Korea, the American Navy was heavenly pressurized to quickly come with a counter reply and that led to the development of the Cougar as successor of the 'straight wing' Grunman Panther.
For this publisher it is typical that the concerned air plane type is described till the smallest detail. Of course for all those that are interested but also for the model air plane makers. Nothing to bargain there!
The book contains more than 200 black and white and colour pictures, illustrations and also 40 colour schemes. An incredible amount of beautiful information for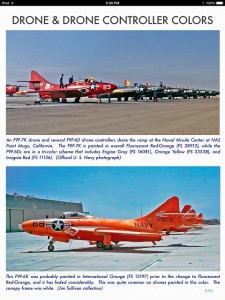 the taking. But the book contains different stories of the pilots which have flown with it and the various utilizations too. The Cougar has been employed as trainer, picture explorer and drone, but served mainly as operational jet fighter on the aircraft carriers of the Navy, also during the war in Vietnam.
Personally, I know the Cougar from the comics of Buck Danny, one of my big favourites. More than 600 planes have been in production that served at 30 squadrons during the fifties. It was also the first jet fighter that could be equipped with a nuclear tactical load. To be short, a successful design which through its solidity and characteristics was loved by the pilots in that time. The last plane of this type was in 1972, finally, at its end.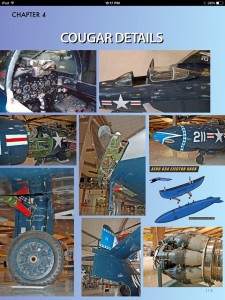 Special in this book is that you can 'link through' to elaborate picture galleries of different models and various types. A Walhalla for the model makers, which comes forward mainly in the last chapter. As both the other editions of the Detail & Scale Series, also this book is a very tasteful edition and especially the illustrations and drawings of the colour schemes look fantastic. A must for the amateur lover.