Fiction stories about aviation always have a so called 'inaccuracy' factor. Which means that a good story often collides with the technical reality. In this book, written by Matthew Patrick and beautifully illustrated by John Patrick, a good balance has been found. The story takes place in 1915 when aviation stood at the beginning of enormous technical developments, helped by WO I, but at which the airship also played an important role.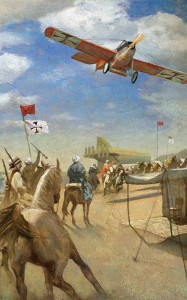 Everything revolves around the British pilot William Hastings, who gets shot down above the Egyptian dessert by the Prussian pilot Heinrich von Gotha and is then taken captive as a prisoner of war, aboard a German airship, the 'Dora 9'. This airship is on its way from Hamburg to North America via South Africa, to be put into action at a fiction conflict between the southern and northern states of America. De trip across Africa, South America, with the aim to reach the south of the United States, forms an import part of the story, as well as the life aboard the German airship. William manages to hide himself aboard the airship and having arrived in America, escapes, to join the just founded air force of Pennsylvania. The task of the German airship is, with more German airships, to support the southern states in their battle through air explorations and bombardments.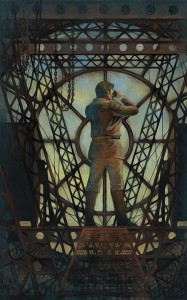 As the red line through the story is the role of the British pilot, who wants revenge and does everything possible to shoot down the airship Dora 9. But then he meets Heinrich von Gotha again in a last air battle, which is splendidly described and in the end only results in losers. The historical aspect, as well as the 'aviation technical part' is greatly deepened. It is clear that the writer was up to date about aviation (even has a multi-engine rating) and also the use of language is fantastic. I had to dive often into the dictionary to look up the meaning of, for me, unknown words! Although the conflict between the States is fiction, it gives a good picture of the then military and governmental relations between the different States. To me the book appears to be surrealistic and that makes this whole book extra unique and special to read.
This 440 pages counting book is luxuriously finished with a beautiful cover and as said, fantastically illustrated. It contains 18 splendid colour prints, which extra highlight the situations in the most important chapters. An exciting novella for aviation lovers, but also for lovers of the American history in the described period. Very recommendable.