270th Review Secret Projects of the Luftwaffe- Volume 1 Jet Fighters 1939-1945- Dan Sharp
Surprisingly interesting
In the category surprisingly interesting and fun books, this one from Dan Sharp goes straight to number 1! I bought this book out of curiosity. I had no books yet about secret planes of the Germans, let alone that I had read about it. After having read this book, you are 'pretty well' informed!
What a huge amount of information is there in this book! And the information is so beautifully presented! It starts at the introduction directly with a good overview which shows that the Germans,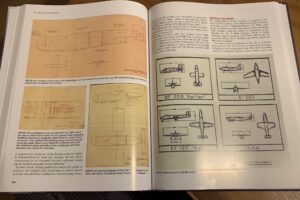 from March 1928 onwards, already started to work on engines that were different than the traditional piston engines. The Germans got ahead with respect to the Allied, in terms of that development. The introduction also contains a record with what happened on which date from March 1928 till May 1945. What a manpower and hours have been put into this! It must have been very exciting and complicated to produce those planes in wartime, but the Germans did it!
Awkward times
It must have been an awkward time. A horrible war was going on, but at the same time, dozens of people were working on planes that could fly faster and higher by giving them a faster engine and making the planes more aerodynamic. This 366-page thick book takes you along in that time in a nice way; good readable text in two columns, lots of picture, lots of building plans, information about the builders like, Heinkel, Junker, Messerschmidt etc. There is a lot of attention for the way in which the planes could be made more aerodynamic through varying with the wing stands, surface of the wings, material and evolution of the engines. The book contains a lot of pictures of experimental flights and also a lot of information about notes and calculations from then.
Good series!
The author and the publisher Tempest Books succeeded to publish a book that is very fun and interesting to read or to just flick through. Even when you do not like too many details, just flicking through the paged you can do up great information about the planes from that time. Incredible how the people in that time managed to make such progress with the technical means of that time. All of this, without computers! The book is printed on good paper and contains both color and black and white pictures. Also, when you are fond of design, this can be called a beautiful book.
In the end these developments brought the Germans not ahead in the war. There were wrongly made strategic choices with respect to the Allied, who had invested more in bombers. How this all ended, we know. I think I will buy Volume 2 also! That book tells about the development of the bombers.
A lot of knowledge from that time is applied in the military and civil post war developments, from which we still benefit!