F-4 Phantom: Rare Photographs from Wartime Archives (Images of War)- Martin W. Bowman
Pen & Sword Books is the publisher of this good series 'Images of War', in which various beautiful and interesting issues already have been presented. This edition tells about the F-4.
The Phantom
The great thing about these editions is that they contain rather compact, good readable information. Also this time about the F-4. The F-4, which I have seen (in my opinion) 100.000 times, over the years, when I came in my youth as plane spotter on RAF Wildenrath in West-Germany, where 19 and 92Sqn both flew the Phantom FGR 2. Consequently, I did get hooked on this plane and still are..
This book describes in 4 chapters who the most important users of the Phantoms were. Firstly, the US Navy and US MC; secondly the USAF; thirdly, the Royal Air Force and fourthly, the other users like, for example, Israel, Turkey, Greece, South-Korea and Japan.
Interesting facts
Lots of facts are stated in this book about the war situations in which they were used, about the drills about the extraordinary performances, technical details, etc. etc. Rather fascinating is that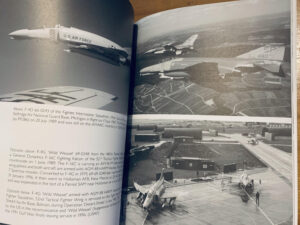 5.195 – yes, you read it correct- Phantoms have been built, of which about 4.100 by the Americans themselves. The builders were McDonell Douglas (5057) and Mitsubishi (138). Really huge numbers. The plane has been produced for 24 years!
Photobook!
The chapters give a short introduction about the user and show after that all kinds of black and white photos with an elaborate description. The photos are pretty nice, but I did find it a bit too much black and white. The present reader is spoilt with all kinds of beautiful color pictures on social media and other book and then it is a bit disappointing that it is all black and white. Surely also because it explicitly is a photobook! Will there ever be more color photos in this series? Nevertheless, the book further gives good information about the many pictures and I would like to have this book on my bookshelf.