It's been more than 20 years since Operation Desert Storm took place in Kuwait and Iraq under the leadership of General Norman Schwarzkopf, Jr. Iraq invaded the sovereign state of Kuwait and I remember that in the morning of the first air attacks I watched TV and saw Tornadoes take off as part of much bigger operation. The goal of this operation was to expel the enemy out of Kuwait back to Iraq. In one of those RAF Tornado fighter jets (registration ZD791) were John Peters and John Nichol. It would be their first and last mission in that region. 'Tornado Down' is an "I-story" told by 3 persons; pilot John Peters, his wife Helen Peters and navigator John Nichol. The stories about the experiences of these three main characters alternate and tell in chronological order what happened in their lives during those days. The book also contains a number of black and white photographs that illustrate the story.
Back to the story! John and John and a number of colleagues from 15th squadron of Laarbruch (now Weeze Airport) were deployed to Muharraq Air Base in Bahrain. From here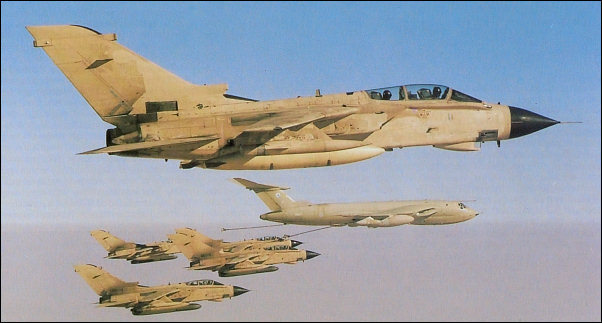 they practiced flying at low altitude over the deserts and refueling in the air. Then followed the preparations for their first flight mission that was to be on 17 January 1991; its goal was to inflict damage on the infrastructure of the Iraqi airbase at Ar Rumaylah with heavy bombs. During this first period in Bahrain, they worked together and stayed at a 5-star hotel enjoying all the luxuries…
John and John describe in detail the weapons they had on board, how they communicated with each other, how they practiced, how they honed in on the target, etc. I am not going to tell you in this review why and how it went all wrong during their actual mission, but at one terrifying moment they are faced with having to bail out of their Tornado jet in their ejection seats. They find themselves standing together alone in the desert, wondering how to avoid getting into the hands of the Iraqis. They try to flee, but it is not long before they are taken prisoner.
From then follow biting and unadulterated descriptions of their interrogations, the heavy beatings and humiliation they undergo and their involuntary TV appearances, the heavy bombardment of Baghdad during their internment at the Abu Ghraib prison, etc. The conditions in which the two men are kept, along with other captured pilots can only be described as oppressive, degrading, filthy, dangerous, unsanitary and humiliating. They spend a total of 47 days in captivity. John Peters received 15,000 letters from well- wishers!
This book is easy to read because the accounts of the three authors alternate rapidly, thus keeping the momentum going. The texts are edited by William Pearson and form a touching and unique report of a cruel episode for both men and their families. The book is exciting and draws you into the vulnerable existence of the two men in their squalid cell complexes where they are subjected to constant violence.  To be regularly beaten up by a group of frustrated Iraqis is no fun! It is no more fun to lie down on the bare floor of your squalid and dingy cell for days on end with only your own faeces, vomit and cockroaches to contemplate (a very far cry indeed from their 5-star accommodation of their training period in Bahrain). Despite the unforgiving descriptions, this book is a winner!