305th Review Herinneringen van een jachtvlieger- Evert 'Ace' Motshagen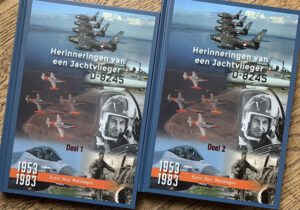 Martin Leeuwis Publications
2023
Dutch
Review written by: Rene Verjans
(Nederlands) Van alle luchtvaartboeken die ik heb is dit wel een heel bijzonder boek; het is een boek in twee delen. Oorspronkelijk zou het boek 850 pagina's dik zijn, maar dat werd te gek. Daarom is in overleg met uitgever
Martin Leeuwis besloten gekozen voor een tweedelige set boeken, met totaal meer dan 700 pagina's op A4-formaat Nederlandse luchtmacht geschiedenis en honderden foto's. Evert Motshagen is luchtmacht-vlieger en startte in 1954 met zijn eerste trainingsvlucht op een Fokker S-11 om 30 jaar later in 1984 te eindigen op een F-16. Welk vliegtuig vloog hij niet? Wat een carrière!
The book is unfortunately only in Dutch. Press the Dutch flag for a review in Dutch!
---