This English book tells in 186 pages the story of Yvonne Pope Sintes, who became in England the first woman captain on a commercial passenger airplane. In that time – we are talking about the 50's- it was very unusual to employ a woman in a function in the by men dominated aviation. The bigger companies had as policy that women were not allowed in the cockpit at all. Women had to take a longer road to finally end up at the controls of a passenger airplane.
The career of Yvonne Pope Sintes as pilot started in the light aviation, helped by her husband, who himself was an instructor. By gaining her instructors certificate and next a commercial license with instrument rating, she came, step by step, closer to her wish. After a short career as stewardess she followed a training to become a traffic controller but also there she had to fight to be accepted as the first female traffic controller.
She received multiple decorations, amongst others of the IOPA as best female traffic controller in Europe and the Amelia Ehrhart trophy for her achievements as licensed aviator. She flew, in the end, types like the Dakota, the Avro HS 748, as co-pilot on the Comet IV and later as captain on the BAC 1-11. This is all not so very special, because thousands of pilot have done this before her, but the fact that she as a woman operated in this function, was highly remarkable. A large part of the book describes her private life (with photos of her children and both husbands) and the determination with which she pursued her life goal – flying at a big company –
With modesty she tells about remarkable events during her working life in the cockpit and the daily life of a working mother and captain. For the women that are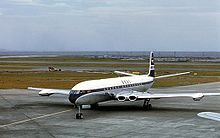 thinking about building up a life in aviation it is a nice book to read, although the period in which this takes place cannot be compared with the present time. The training programme was different and now it is impossible to imagine no women in the cockpit!
Throughout the whole book you read about her determination and how hard she had to work for her position. Hence this is good lecture for everybody who is looking for the job of their dreams in aviation. After reading this book you will understand that it is all not so obvious. The style of writing is a bit old fashioned and also a lot of non aviation related business is described. A book for women, not really exciting but entertaining. With the black and white pictures of her in the cockpit and the pleasant story mode, still a nice book.