In my hunt for excellent books at the aviation firmament I ran into this book and this specimen really deserves a honourable mention. And to top it all, the book is even a Dutch product.
Whilst about everyone in 2013 is minding the JSF and the F-16 and some persons perhaps still staying behind at the F-104 and the NF-5, there still is a congregation of people who carry the Gloster Meteor high in their banners. This kind of person is Aart van Wijk, who himself had the opportunity to fly this aircraft and thereafter became a captain on 747-400 at KLM. The Meteor, which in its days established world records, served in our Royal Netherlands Air Force between 1948 and 1960. Yes indeed, no mistake, only during 12 years. At that time it was an enormous leap for pilots to transfer from props to the jet-engine. Aart van Wijk was of the lucky ones to be selected to form part of a generation of pilots who experimented with the jet-engine.
This book consists of four completely different parts

and this makes it quite pleasant to read, to page through and, in particular, to gaze at. As far as I am concerned, it is mainly a picture book. Part 1 contains reports of ferry flights, gunnery exercises and a particular accident near Bridlington. Parts 2A, 2B and 3 describe the variants of the Meteors who served with us and part 4 is filled with fragments from the diary of Meteor pilot Jan Tolido. The present book is based on 4 volumes which earlier were published separately.
Part 1 introduces the spirit of those times and the daily operation of ferry- and test flights required for the transfer of all aircraft  built in England to the Netherlands. Pilot Vijzelaar was very much involved in all that and many hand-typed reports have been included in this book, which point by point show in what manner the flights, exact to the minute, developed, which items w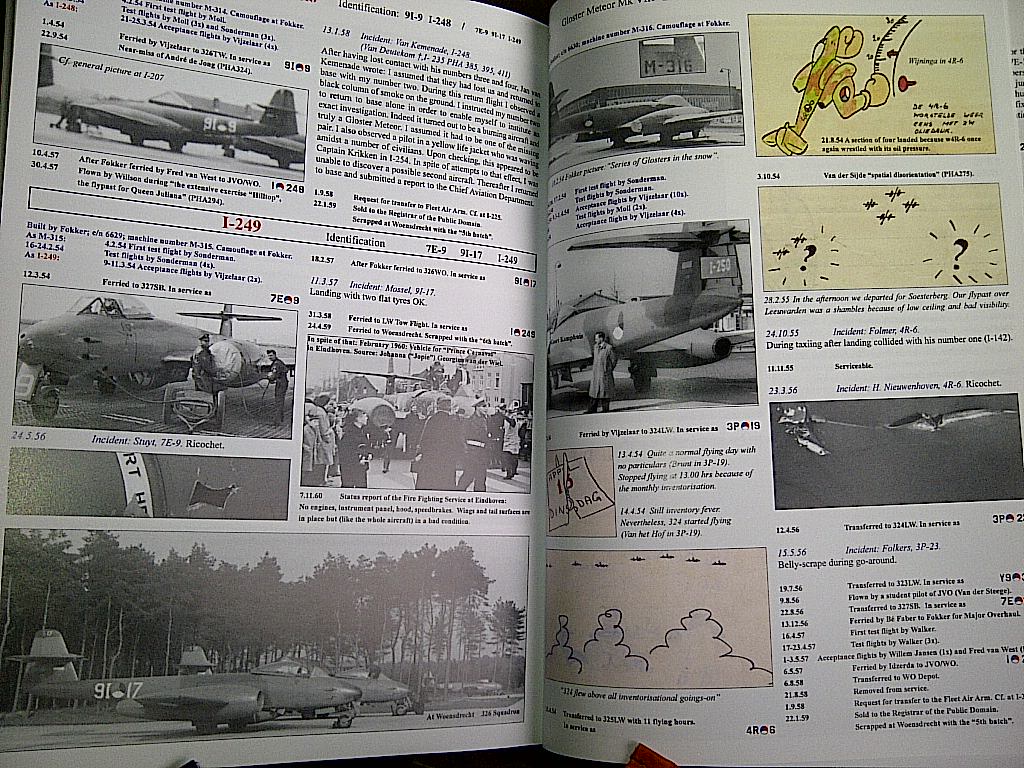 ere being tested and which were the results  . . . 'cabin heating poor'; 'port lower gun stopped', 'camera not working' and so on. Indeed many parts were not functioning just after the planes had left the factory.
Parts 2A, 2B and 3 are special chapters. Every single Meteor received its own page filled with detailed information about the date it entered service; who performed the ferry flight or the first test flight; special flights during the life-time of the aircraft such as, for instance, 'flown by prince Bernhard' or 'battle formation at 30.000ft 3 a/c – snake climb and close vic descend'; information on changes in squadron codes etc. etc. Ok, – I admit – one should of course be rather fond of details, but if you take a look at these details together with really hundreds of pictures and the often humorous drawings in the book, I can only state that all this has been presented in a manner quite pleasing to the eye of the b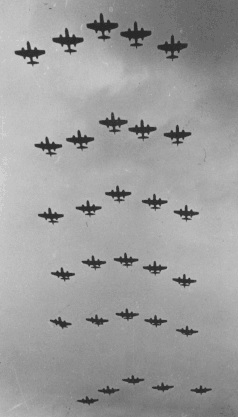 eholder. At times even some 10 pictures and drawings have been given to only one single aircraft, varying from flight-line to air-to-air and pictures of the incidents and accidents which had occurred to it. What struck me amongst others are the many ricochet-incidents, fired bullets which after a rebound on the sand damaged the aircraft.
Part 4 is a small part which describes the air force life of pilot Jan Tolido, based on some handwritten diary-fragments and pictures. A very sad coincidence is that the book presents excellent pictures taken just after the crash of his dual Meteor in November 1954. The amount of pictures in the book is, all in all, so high that the impression is created that in those days, as a matter of course, always someone happened to be around with a camera to record important matters.
All of the book breathes love and passion for flying this aircraft. How else would one be able to create such a beautiful and detailed book? The texts are often brief and taken word for word from (incident-) reports, logbooks and the like. Reading  the book creates the impression  of being present in the heart of these special first days of the jet engine. How I would have liked to be there.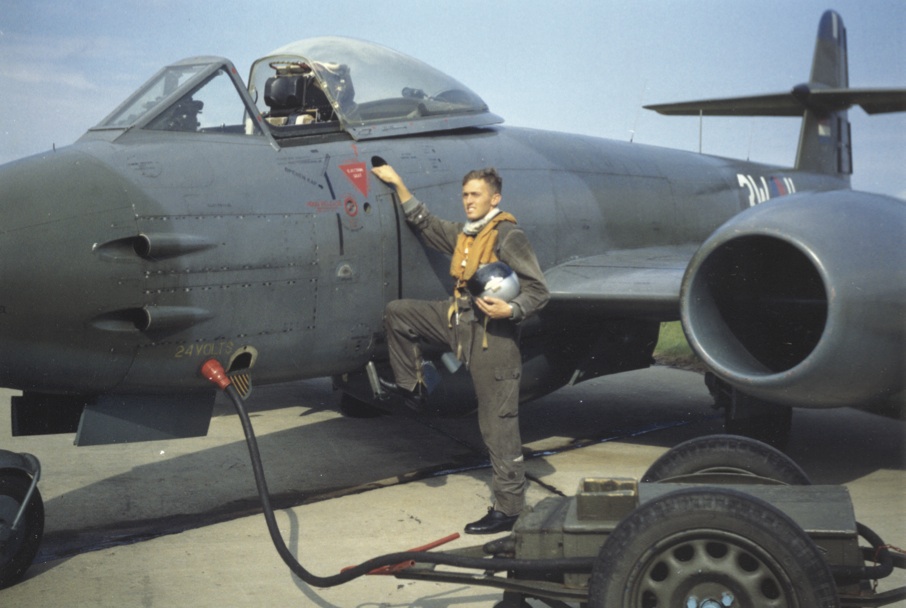 Because it contains only a few long pieces of text, the English language can easily be read. As a matter of course, most pictures are often in black and white and together with the coloured drawings they are a feast for the eye. I was 'hooked' by reading this book and this rather amazed me. Indeed, I was not a participant to that age. A tribute to Aart van Wijk who by the writing of this book gives a unique glance into the air force world of yore.
And incidentally, have a short look at youtube for images with sound of this aircraft.
Want to order this book? Mail to aart.a.vanwijk@hetnet.nl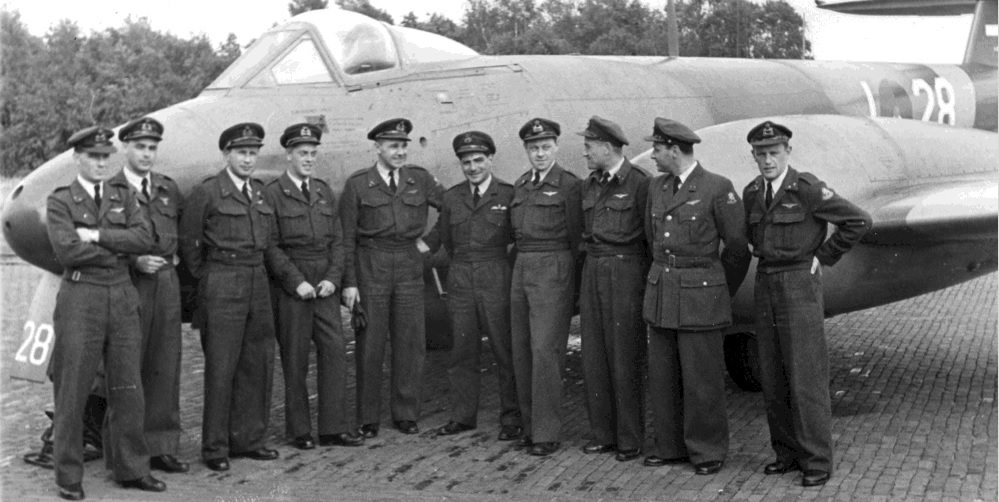 JVS instructors from 1954; Wim van der Goot, Herbert Tiel, Jan de Wilde, Mart Visser, Joop Kort
(Commandant JVS), Chris Walker (RAF), "Bolle" Dijxhoorn, Appie Middelhoven,
Loet Arentsen en Gerrit Drost.