We are transported back in time to the mid-sixties. For a twenty-year period between 1955 and 1975 war raged in Vietnam, Laos and Cambodia. The plot revolves around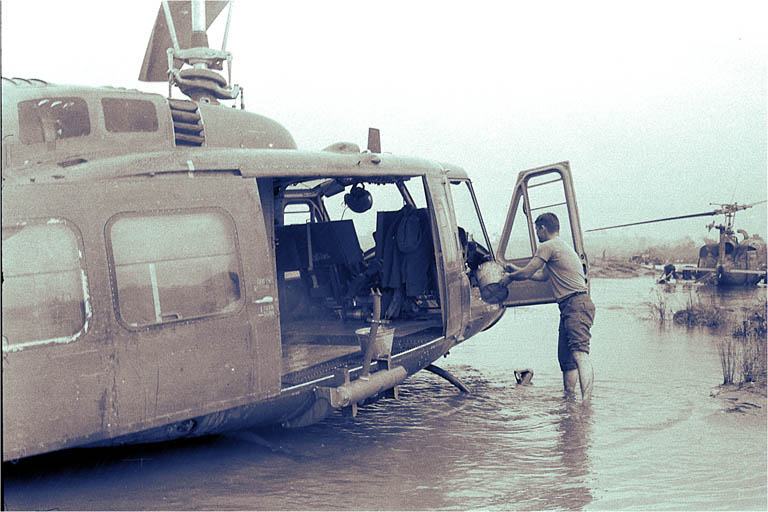 the fact that a number of countries, including the US, considered that the communists were becoming far too powerful in the region and that something had to be done to keep them in check. On the Vietnamese front, the US and her co-partners launched an offensive in an attempt to prevent the communists from occupying South Vietnam. The figures of the Vietnam war are mind-boggling and could fill a book by themselves. The US Air Force alone flew 5.25 million missions during which they lost a total of 2,251 aircraft. The US lost more than 5,000 helicopters of various types. And I am not even going to go into the number of dead and wounded. I am not convinced that it was such a jolly place to be, and neither, I surmise, is the author, Robert Mason.
Mason's narrative begins in 1964. He is in the US Army has just had his long-cherished dream fulfilled: he has been accepted by 'the Cav' (elite air combat brigade) to be trained up as a helicopter pilot. It was the height of the cold war and the friction between the US and the communist forces in Vietnam and neighboring countries was mounting. Young American men were being called up, and, as one of them, Robert Mason could not avoid being invited to the Vietnam party. Leaving his new wife and infant son behind, he boarded a ship bound for the far east.
In Vietnam we fly with Robert Mason to various US army camps in south-east Vietnam in the vicinities of Pleiku, Dak to, Qui Nhon and Bong Son. He depicts what camp life was like, and what it was like when the camp came under fire. He tells us how his days off were filled with women and drink. He relates how his helicopter just managed to avoid minefields, or just not. He describes his sleepless nights. He chronicles the never-ending and mostly dangerous flying missions.
These missions mostly consisted of transporting foodstuffs and medicines, equipment and 'grunts' (foot soldiers) to and from the combat zones situated in different areas varying from endless dark jungle to open paddy fields. If it was a soldiers and munitions run, more often than not wounded and dead bodies were his return journey cargo. I say 'wounded and dead', but in reality, very often there was not much more to these bodies than a single arm, a head or a portion of torso. Mason's UH-1 was often just a blood bath. He recounts his fear and that of his crew during the many times they approached dangerous landing zones. 'Charlie' or 'VC' (as they called the communist Vietcong enemy) were often waiting in ambush to give them a warm welcome. So the helicopter approach had to be preceded by heavy artillery from 'gun ships'. Helicopters therefore usually traveled in convoy, sometimes just a few, sometimes a few tens. Unimaginable these days.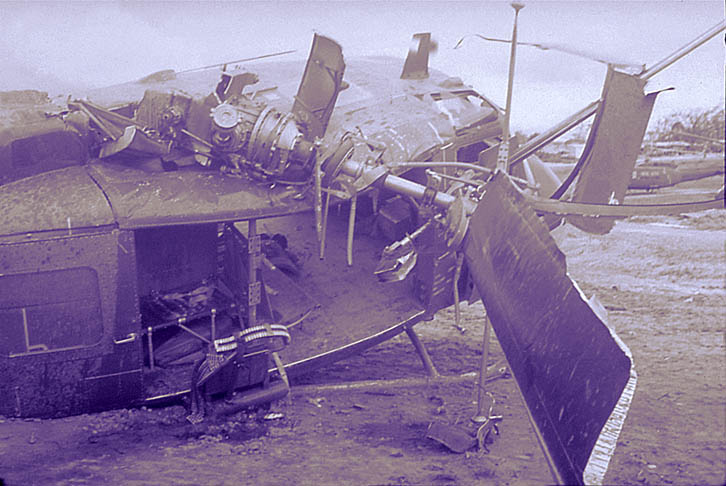 Helicopter flying techniques are thoroughly covered in this book. Particular attention is given to the delicate touches required to land and take off in precarious situations (such as minimal maneuver room, minimal power, excessively heavy load) in order to get the maximum out of the helicopter. It is therefore a must-read for all helicopter pilots.
During his stint Robert Mason suffers more and more with sleep problems. His cynicism increases as he goes from tired to exhausted and he begins to question why the hell is he in Vietnam and what purpose does the whole damned war serve in any case?
What makes this book a particularly good read is the fact that Robert Mason writes in the first person singular and in the we-form. It is wholly his story and he shares it with you in the most down-to-earth way. He writes about what he sees and what he feels. He does not shy away from his crude, blunt, terrifying and gripping experiences and that's what makes his book beautiful and dramatic. He writes honestly about the male existence in wartime far from home and family, in combination with the madness of war and all that it brings with it. You accompany him during a good two years of his life. In this intense venture no two days are the same and extraordinary is commonplace. Mason flew more than one thousand missions in Vietnam in his UH-1 Huey.
He at last flies back home to the US in July 1966. He himself spent less than a year in Vietnam, but the war there was to continue for another nine years. One in five members of all the US helicopter crews that served in Vietnam did not survive to tell their tale. Robert Mason was one of the lucky ones and 18 years after his return he published this masterly and gripping book.
In some places the English is a little difficult for non-native speakers and Mason uses a good deal of army jargon. But if you persevere and read through this, you will find that it is this, in actual fact, which provides the very gravy which makes this book a page turner.
@Photos used with permission of the author