After being fortunate enough to read Peter's last book 'Amir' I admit to being quite the fan of this authors work and Swiss Tiger's arrival today only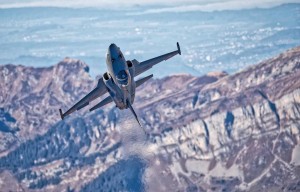 strengthened that adoration! We've seen teaser pictures via social media for some time now and If you liked them then the actual images in the book will blow your mind, this is thanks to the fact that the multi stage printing process used in Amir has been employed for Swiss Tiger and the image reproduction is both flawless and beautiful. Once again the reader is treated to a gorgeous gloss image set onto a satin black page, it really does mark this book out as something special.
The book itself begins with a great foreword piece by Lt Col Nils "Jamie" Hämmerli of the Swiss AF and an introduction by the author, I included a picture of that as it sums up the books ethos perfectly. There's an interesting piece that follows which covers a typical sortie in an F-5 from start up to shut down and gives a great flavour to what these guys do on a daily basis, further along in the book there's more text with pilots recollections and anecdotes which I also found of great interest. But, this books primary mission is to showcase photography of the F-5 in Swiss service and man does it deliver! When I initially asked Peter a while back on what we should expect from this book his reply was "I've gone for something different" and in all honesty I believe he was nervous about doing so.
Considering the costs of production etc it's a brave man who attempts to bring something new and different to the market. Personally speaking I had every confidence that it was going to be brilliant but that's easy to say when you're not putting your money and reputation out on the line. So what are the images like I hear you ask? As an enthusiast writing this they're absolutely bloody stunning, but to be a tad more professional sounding so much thought and care has been squeezed into this, if you're sat there thinking 'lots of mountain shots' then think again, sure there's some present but it's Switzerland and it would be criminal not to include some of natures most beautiful backdrops right? What really hits you is the authors use of light and a real eye for striking compositions. This book is so next level it beggars belief, the photography takes you everywhere from secret mountain cavern hangars (it's like something from James Bond) all the way to 30-40,000ft above the Alps. Sublime light and creative settings from an author who's clearly had all area access, just stunning!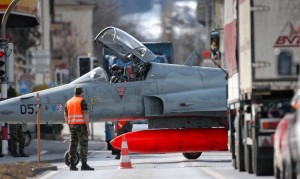 Now I know the biggest gripe with many will be it's price, it's not cheap I know but you can seriously see where the money's been spent, the image reproduction, the fine art paper-stock, it just screams quality from every page. There's clearly a lot of money, time and effort gone into this title, it's a large (12″x10″) landscape format which is perfect for the subject matter and there are no double page images where so much can be lost into the binding. For me this represents a perfect book, it's worth every penny and more! 10/10 Peter, you've produced something wonderful.
Photo's from; http://www.goatworks.com/swiss-tiger-parallel-flight-book/