One of the things I love about this group is finding out about books and authors I've previously either not heard of or know little about. This work by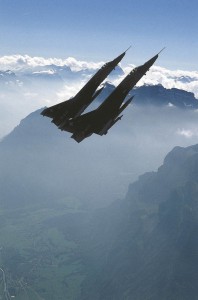 Peter Lewis is something I knew nothing about and I'm totally ashamed to admit that, I've seen Peters aviation shots before on select Facebook groups but hadn't known about his published works. This beautifully presented two volume work from 2004 isn't your every day purchase. It's a premium quality, high end, artistic collectors piece and I'm dazzled by its level of production.
The main book 'Amir' is the primary volume here and as the solid hardback cover informs you, it's focus is the Mirage III RS, exclusively in Swiss service. Sadly (for me at least) the text is in German so unfortunately I can't give much in the way of detail there but what I can tell you is that the photography is beautiful, this book arrived to me yesterday morning and I spent most of that afternoon taking it all in. Apparently the images are reproduced using a seven stage printing process with a final lacquered coating, what results is a pin sharp gloss image centred on a satin finish black page. It's very effective and all of the 156 pages are quality 160 grain art paper.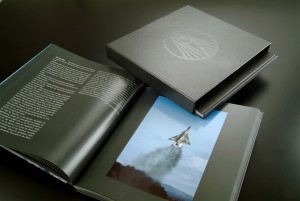 The second volume in the set threw me at first but is so wonderfully unique I believe it's a stroke of genius. Nil Non Videmus (roughly translates to 'do not see') is military tech transformed into artistic photography, the Mirage III RS being a reconnaissance aircraft has of course cameras housed in its nose. In this companion book the first few pages are given to a description of the aircrafts 'recce' capability using text and diagrams followed by paired pages, one page a detailed map with the aircrafts location and direction, the other shows the shot captured by whichever one of the four cameras was used at the time. It's clever, artistic and (to me at least) fascinating through all of its 100 pages.
These two volumes housed in their protective slipcase are a superb tribute to the aircrafts service with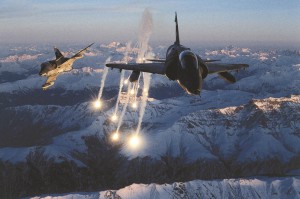 the Swiss Air Force, a very special body of work that I'm honoured to have had the pleasure of viewing. I'm very eager to see Peters next book 'Swiss Tiger Parallel Flight' coming out in or around March next year. By all means check out Peters work on his website, photos of Amir are in the comments.
You can buy the book via http://www.goatworks.com/.