This book describes the flying adventures of Matt McLauchlin in Papoea New Guinea (PNG) in a very realistic way. It starts with his short career in the New-Zealand Air Force, where he was washed out during his pilot training. On his search for a job in the commercial aviation he ends up in Papoea New Guinea in short PNG where he starts flying for a small charter and get trained in bush flying. From that moment on he enters a world where he risks his life daily to fly to small unpaved airfields surrounded by mountains and valleys in bad VFR circumstances to ferry  freight and passengers.
He starts as a rookie pilot on a Cessna 206 Stationair with TNA Airways, a small local company, and slowly advances to heavier planes. His stories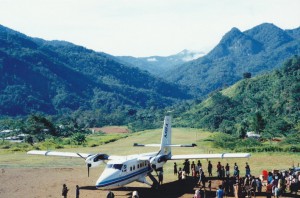 and the narrow escapes he describes are hair raising and many of his colleagues are  involved in plane crashes with often fatal ending in the three years Matt is working there. After the Cessna 206 he progresses to the Pilatus Porter, the BN-2 Islander, the De Havilland Twin Otter and finally the Dornier 228 a heavy twin engine turbo-prop . The description of his daily flights from field to field ( daily average around 9 or more flights ) with always changing freight and passengers including live animal stock are very fascinating.  In between his flying stories he also describes in detail  the local circumstances and the political decisions he is confronted with.
As reader you can't escape also the short lessons you get from Matt in Papoea Pidgin English (Tok Pisin) a languge that is used bij the local inhabitants. He is 21 years old when he starts bush flying and holds a single and twin commercial rating but soon discovers that in PNG totally different qualifications are required to survive there. The biggest cause of the many crashes that took place there was by mistake entering a dead end valley in low visibility and being unable to turnaround or  follow a wrong route in low ceilings ending up in a crash against a mountainside hidden in clouds. Navigation was done by dead reckoning by compass and stopwatch, local road maps and natural checkpoints like rocks, big threes or rivers as GPS systems did not exist yet in those times. We are talking about the beginning of the 90's in the last century. Also the use of beacons was very limited because of the huge mountains that disturbed the receipt of the radio signals.
Every approach to the short unpaved high elevated airfields with constant changing winds was a hazardous adventure on its own. You had to make a precision approach with often no possibility for a go around. It were mostly one way airfields on which you had to turn the plane at the end of the runway 180 degrees for the take off. What do you mean using head winds? Matt is certainly aware of the fact that he balances every day between life and death. Other problems he encountered were the overloaded planes because the local Papoeas loaded extra freight in the plane when he was busy with other things.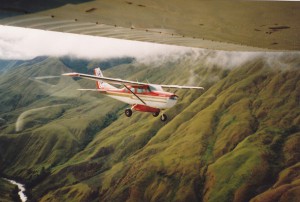 Matt was pilot, loadmaster, company representative and cashier at the same time and was responsible for everything including all the paperwork. Part of his book handles also the history of New Guinea and especially the period during the second world war. After three years flying in PNG Matt gets the chance to start a career with a big commercial carrier.  This is also a very interesting last part of his book in which he describes his initial training and career as a line pilot on big passenger planes. For pilots fresh from their pilot school and climbing the cockpit of passenger jets, this book is a good lesson in humility with the message that elementary practical pilot experience is the best base for a successful and safe career with an airline.
I enjoyed this book immensely. Everything is described so realistic and without boosting but immense exciting. With some flights you feel the problems arising and know that it will certainly end up in disaster. Hair rasing!  I have deep respect for all those pilots that work there in terrible difficult circumstances. The book contains some photos mainly from the author but I didn't miss the pictures. The stories were much nicer. A five star plus book for all of you.