This book, detailing the creation and execution of the Japanese kamikaze – divine wind – suicide attacks, was a real eye-opener for me. Never before have I read such a detailed account of this desperate stratagem. Moreover, the profound effect the attacks had on the allied fleet in the closing years of the war was far more dramatic than I had understood from previous publications.
Simply put: for every kamikaze pilot lost, the combined Allied navies lost 40 to 50 sailors and crew. It is readily evident that this fact caused constant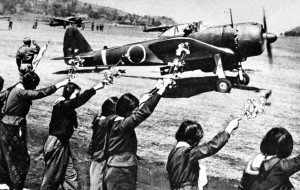 stress and strain with secondary, symptomatic effects (such as fatigue and psychological breakdowns). In addition, the success rate of kamikaze attacks compared to traditional torpedo and bombing raids was 31% instead of 6%. To the Japanese this was the driving incentive behind escalating the scale of the kamikaze strategy. There was no shortage of volunteers. The Americans must have realized that the 9,000 airplanes held in reserve for the defence of the home islands left no recourse other than the implementation of the atomic bomb.
This book also illustrates the tactical brilliance of the Japanese. They were well aware of – and fully utilized – those times when their adversaries were most vulnerable to attack; take-off and landing manoeuvres on aircraft carriers, transports anchoring to disembark troops, dawn, dusk, etc. To off-set the use of sometimes poorly trained pilots for the kamikaze missions, precise (radio) guidance allowed even these men to effectively assail their targets. These successes further fuelled the enthusiasm of youthful Japanese wishing to partake in the raids.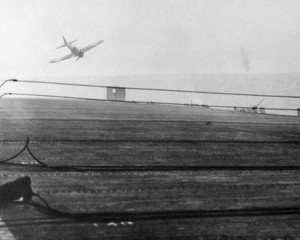 Also apparent is the fact that the pressure on the underdog leads to an increase in suicidal actions. Early in the war it was the Americans and British to whom fell this unenviable role. During that time – on numerous occasions – requests for volunteers to step forward were in fact pleas for all but suicidal operations. A famous example from the Western perspective is the Doolittle raid launched shortly after the attack on Pearl Harbour – an air raid using modified B-25 Mitchell bombers – with Tokyo as their target. With no possibility of landing on a friendly airfield, the flight was a one-way trip. The bomber crews would have to fend for themselves and hope for the best with mixed success.
This exceptionally readable book provides a very complete overview of the factual events surrounding the kamikaze operations in addition to detailing the order of battle for both the Allied and Japanese forces involved. This necessitates facilitating a reading strategy appropriate to the individual. Not every reader will have the fortitude to fully absorb the details of every kamikaze attack executed. If that fact does not daunt or dissuade you, this is a fascinating book.
Credit photos to Wikipedia