It gives a special feeling when you are reading on the 38th degree of latitude with 35 degrees a book about aviation in the Canadian region above the 60st degree of latitude with temperatures in winter of 40 degrees Celsius below zero, a difference of 75 degrees Celsius! At least the book provides cooling with these high temperatures!
Danielle is originally a historian and through time got interested in the Canadian aviation. In 2010 she published 'For the Love of Flying' about the history of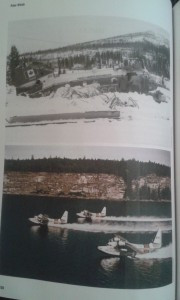 'Laurentian Air Services' and this book appeared in 2014. This book tells about the development of aviation in Canada and her periphery which is set above the 60st degree of latitude.
Polar Winds starts with how it all began in 1899 in Dawson City, a city with gold diggers and their related business. Air shows took place with 'professor' Leonard who, hanging under a balloon, showed all kinds of tricks and then descended with a parachute in the river – or more painfully- on the roof of a building. The whole community from the wide surrounding came to see this spectacle. Brilliant are the pictures of those tricks.
The city Dawson was inspiring for aviation pioneers and that was not surprising, because it was rather some miles between the more inhabited world in Canada and Dawson, besides it was often not nice travelling across rivers and paths with ships and dog sledges… In that city would multiple experiments with gliders take place in the years after. The Noor Amundsen of course is also discussed, which in 86 hours flew from Spitsbergen by the North Pole to Teller in Alaska. We have arrived in 1926 in the meantime.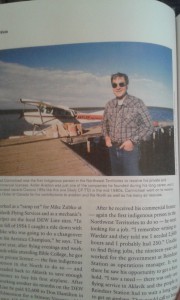 Still it would not be till after WO I till the first motorised (army-) planes in 'expedition mission' would fly to the first landing strip above the 60st degree of latitude. This must have been a special time! With showing their piloting tricks the pilots earned money with which they could fly a great deal further and maintain their plane. Beautiful is the story of sir Prest who with his biplane had to make an emergency landing in the neighbourhood of Eagle on one of his adventurous trips and ended up in the middle of no-where in a herd of Caribou's. He managed to shoot one, slaughtered the beast and made a fire with the help of his aircraft gasoline, hid with heavy rainfall under his plane and then went looking for the habited world. By chance he encountered a hunting trail and survived in the end. What a time and most of all courage! From this point onwards the chapters flare out via the time of WO II and the cold war to the years in which aviation developed and slowly structure came in the organisation of legislation, airports and routes. Interesting here is the attention of Danielle for the more personal stories of the people who developed till bush pilot or flight school owner and the share of women, native people and technicians in aviation. That makes the book better and richer. Above all Danielle's book breaths a lot of respect for the weather conditions, adventurous conditions, cultures and splendid people which this immense large area is full of.
Beautiful, well sort of, are the anecdotes about the missing planes, crashes and emergency landings in this huge area without too much, or actually no, landing strips. People were often sought for by many planes and not seldom found after quite some days or years, starving, wounded and/or death. In any case this sort of losses gave the development of navigation and emergency provisions an impulse.
Of course also for the readers outside the area above the 60st degree of latitude, is this a very beautiful book. It brings the reader, who is used to modern aviation with a multimedia set and whisky on a height of 10kms, for a short time back to the basic of how it all began. The book is perfectly documented and has multiple colour and black-and-white pictures. To be short: I grant every nation such a historian who with a scientific streak writes light and passionately about aviation. Thank you Danielle! We are looking forward to your next book!